Romanian Festivals and Events USA 2023
Buna ziua!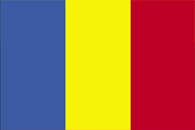 Romanians are a warm and hospitable people who are proud of their country, culture, and strong sense of tradition. Their love for folk music and dance such as the hora, the sârba, and the ciobănaş keep them entertained at weddings and other celebrations. The "The Woodcutter and the Bear" is one of many legends found in their tradition of folklore and storytelling. Tasty goulash, sarmale, mămăligă, papanasi, cozonac, and fresh cheese are traditional dishes from Romania that may be found at your local Romanian festival in the USA.
EthnicFun.com lists Romanian festivals, parades, and other events where you may find traditional Romanian foods, festival music, dancing, entertainment, games for kids, cooking demonstrations, and local art.
Check back often for the updated list of 2023 Romanian festivals.
Eat, Dance, and Enjoy the Culture of Romania!
Upcoming Events
Recent Past Events
More Events